The Founder and Director of Life In Christ LINC Ministries;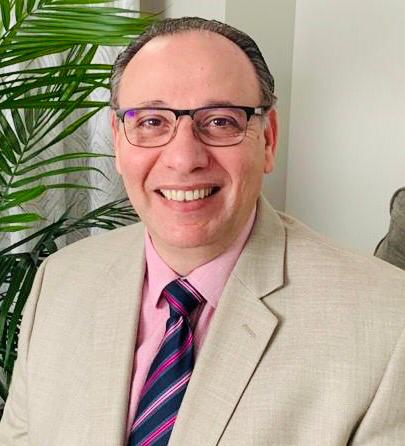 Reverend Ibrahim is a preacher and teacher of the Bible, with his heart full of fire, burning to reach unchurched people inviting them to know the hope which is Christ in us. Reverend Ibrahim has served the Lord for many years. He is proudly a third-generation pastor in his family and accepted Jesus as his savior at the tender age of 11, and was further convicted to follow the call of God in his first year studying medicine. From then, he has never wavered and stands steadfast in his stewardship. Through seminars and conferences nationally and internationally, he has been blessed to share the Word of God as was commanded by Him.
Reverend Wahby continues his weekly TV program on different Christian channels like ABNSat, Alkarma TV and social media, both in English and Arabic. Through these programs, he focuses on believers' discipleship and how they can grow in their spiritual life. He further goes on to match his words with action by providing courses on how to introduce the gospel to the lost. He continues to lead and execute LINC's mission, which is to provide leadership, discipleship programs and pastoral care.
Reverend Wahby has preached in numerous conferences, spiritual revival meetings and youth and families camps in several countries including Egypt, Jordan, Iraq, Tunisia, Algeria, USA and Canada. Reverend Ibrahim also produces and presents an Arabic program called "The Words of the Master" on Alkarma TV since 2011. He has other apologetics programs on ABN (Aramaic Broadcasting Network) TV since 2009 as well.
In 2015, Reverend Ibrahim produced a program (52 episodes) addressing the challenges that hinder Muslims through their faith to know the true God. It was during this program called "A journey to know God" that he hosted a converted couple from Islam to Christianity. This program has been broadcasted to the Middle East and all the world through Alhoria TV (Arabic TBN).
In early 2020, he was further convicted in his heart to start and host a weekly English Program called "Under The Shadow of the Holy Spirit" with a vision to explain the wonders and works of the Holy Spirit in our lives. This program teaches and touches the hearts of many, arming them with the knowledge they need to be closer to God and to bring others closer to God.
Reverend Wahby is the minister of the word and sacrament of LINC ministries and an active member in Pickering Presbytery.
Prior Experience
Reverend Wahby worked as the minister of the word and sacrament in Chapel Place Oak Ridge's Presbyterian Church in Canada from 2006 until April 2012. Before that, he was ordained and worked as the Minister of word and sacrament in Mallawi Presbytery, Synod of Nile Presbyterian Church in Egypt from 1999 until 2005.
Notable Achievements
He is the author of a series of LINC discipleship curriculum called "The Roots", which teaches on the Christian foundations and spiritual growth.
He shared in the production of the "LINK & Bridge" program, crafted to help Christians to share the gospel with Muslims.
Professional Education
Reverend Wahby graduated from M Div. Cairo Presbyterian College in Egypt in 1998. He also graduated with a Bachelor's degree in Science and Veterinarian Medicine from Cairo University in Egypt in 1992.
Connect with Reverend Ibrahim Wahby